INTERNATIONAL ASSOCIATION OF QUILTERS
Complete one quilt top per year, one block at a time.

(Currently closed to new members)
We help you keep up to date on trends, patterns & designers
You'll go from sewing alone and the same 'ol patterns, to connecting with others while exploring new techniques, patterns and designers from around the world.
"I don't know many friends that like to sew as much as I do. I was waiting to find a group that wasn't super expensive to join since I had never been part of one- I wasn't sure if I would enjoy it. I was so excited once I saw what the planned projects were, the names of guest designers I hadn't heard of before - I knew I had to sign up as soon as possible! I am beyond happy I joined this one!"
YOU DON'T HAVE TO QUILT ALONE
Get ready to explore new designers from around the world, enjoy current and fresh patterns, and share & sew with others.
no more "sewing alone and the family not getting it"
it's time for "having fun and sharing with someone who understands"
Every month you'll sew an exclusive pattern by talented designers from around the world. 
Explore new techniques as well as modern and traditional designs- from beginner to intermediate skills. 
Places our designers have been published
Sew current and fresh patterns all year
Each month you'll hop from designer to designer gathering 12 blocks that will fill in the mystery spaces.
Along the way, the setting blocks will be published for this 70″ quilt, making it easy to keep up and finish by the end of the year.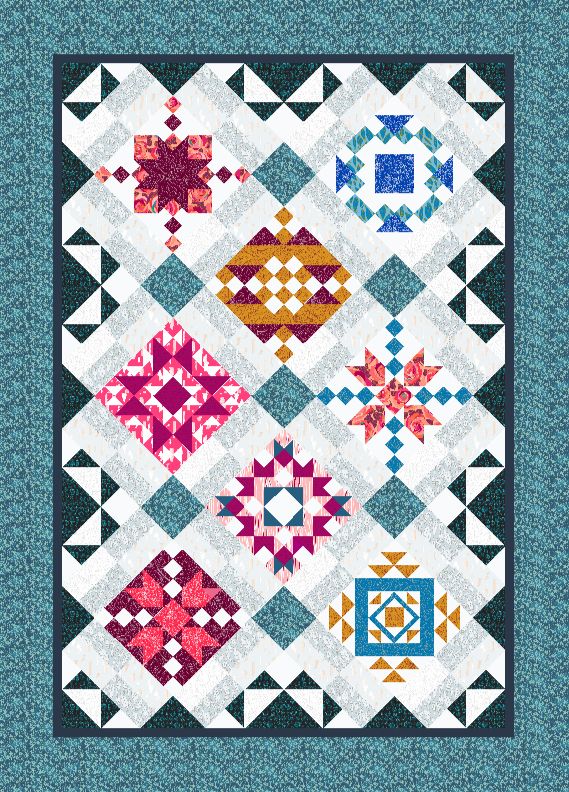 This year long block of the month features 8 large quilt blocks, a fun sashing and setting blocks with simple borders. 
  Finished size 63″x87″ it's great for using your stash or sewing up with a specific fabric line. 
You'll have full access to many layouts, new pages as well as the original Patchwork Planner pdf.
Print the pages you need for keeping organized while you sew.  Customize your own quilt journal and build a planner and journal you'll actually use.
The IAQ is currently closed to new members.
We re-open in January.
Participate in swaps, challenges & annual mystery quilt
Don't miss discovering a new designer or sewing up a current pattern....
Immediate access to over 50 patterns - get sewing now!
I knew I had to sign up as soon as possible!
"What an awesome group! As a newbie to sewing and to quilting I have so much to learn and everyone is welcoming, inspiring and encouraging. One of my favourite places to lurk!"
"I really enjoy being part of the online guild. I'm really busy right now and I love being able to access the guild any time of the day or night. I've learned new techniques and have had my questions answered. The people part of the guild are so friendly and feel like my friends!"
How to get started - in just 3 simple steps
Meet incredible designers, sew beautiful quilts and sewing projects with a supportive and fun community!
Get Sewing Today