Finish your quilts with machine quilting. Prep your layers, explore the walking foot, free motion and what's next.
START CLASS »
The technique of paper piecing (sometimes called foundation paper piecing) uses a drawn or printed pattern as a base to stitch on directly, and can
START CLASS »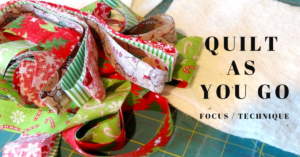 Quilt as you go is a fun technique that allows you to get the whole project finished at one time–the piecing and quilting are done together so that
START CLASS »
You are unauthorized to view this page.  You'll need to login prior to viewing content if you are an IAQ member. NOT A MEMBER OF
START SEWING »
You need to login or register to bookmark/favorite this content.