Sew together with our year long Block of the Month. Each month we'll sew blocks, sections and by the end of the year – you'll have a completed quilt top.
The Dutch Garden quilt is the Block of the Month for 2022. Starting in January – ending in December. January – materials gathering, February –
START COURSE »
Quilting Techniques & Notions
Explore a new technique or notion with our mini classes.  Each class will walk you through step by step with videos and resources for additional help.  You'll feel confident by the end of the mini class as well as have a community of cheer leaders all along the way.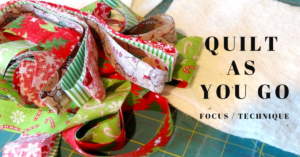 Quilt as you go is a fun technique that allows you to get the whole project finished at one time–the piecing and quilting are done together so that
START COURSE »
Quilting 101 will give you a good start on the basics and foundation to build your quilting journey on.
START COURSE »
You need to login or register to bookmark/favorite this content.